Nokia 5233-5228-5232-5233 Firmware Ported To Nokia C6 Firmware(Updated Firmware,Fixed Camera Issues)
To Flash your Nokia 5233 with c6 firmware,You need the followings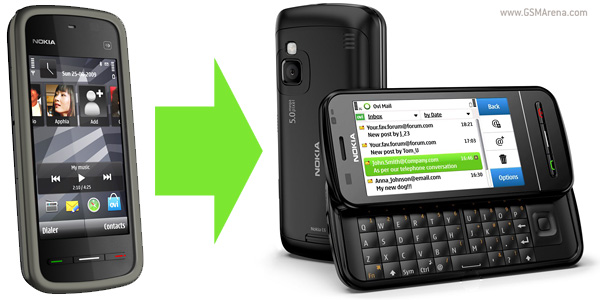 1.Nokia 5233
2.Nokia PC suit or Nokia OVI Suite or Nokia Suite
3.J A F With PKEY enumerator
4.Nokia C6 Custom Firmware
5..Nokia Data Cable
------------------------------------------------------------------------------------------------------------
First Download the following files
1.Jaf,To Download JAF click
here
2.To Download Nokia Suite,Click
here
or directly go to nokia.com(Don't download if you have one)
3.To Download the C6 Firmware,Click
here
(New firmware with camera button errors fixed)
(All Files are Included uda+Rosf2+Core)
------------------------------------------------------------------------------------------------------------
UPDATED VERSION 51.XX
The Main Advantage With This OS Porting Is That You Can Install Any Application Without Signing
CAMERA SOFT KEY AND HARD KEYS ARE FIXED,CAMERA FLASH OPTION IS REPLACED WITH VIDEO MODE OPTION AND THE FIRMWARE IS PERFECT FOR NOKIA 5233/5232
------------------------------------------------------------------------------------------------------------
-----------------------------------------------
Steps to flash your nokia 5233
or
How To Port Nokia 5233 To C6 Firmware
-----------------------------------------------
1.Install J A F
2.Copy the files "OGM_JAF_PKEY_Emulator_v 5" and "jaf_nok4models"(Provided in the J A F Suit) to the installed J A F directory.Usually the default J A F directory is "C:\Program Files\ODEON\JAF"
The files "OGM_JAF_PKEY_Emulator_v 5" and "jaf_nok4models"(The highlighted files) should be copied to the J A F installed Directory.Then Create a shortcut of the file "OGM_JAF_PKEY_Emulator_v 5" to desktop.
3.Create the
direc
tory
C:\Program Files\Nokia\Phoenix\
Products
\RM-625
4.Extract the firmware files to the directory RM-625(Put the files like .coo,.uda.fspx,.bin,v21....... in RM-625)
(Note:Don't create a subfolder in RM-625 and paste the files)
5.Open JAF by double clicking on the file "
OGM_JAF_PKEY_Emulator_v 5".
6.If any errors is shown,Press OK for all errors.
7.Then in JAF Select BB5.
8.Then tick the boxes Manual Flash,Dead USB and Normal Mode.Then
Untick CRT 308
9.Then tick Use INI and then a box appears,then select the RM-625.(or just look for Nokia5232/5233).Then click OK.
10.
Then the firmware files get detected automatically and JAF shows the message as follows.
11.Then switch off your nokia 5233.
12.
Then click Flash & then a warning will appear.You just press OK.
13.
After pressing OK,YOU SHOULD PRESS THE POWER KEY FOR 1-2 SECOND.DON'T TURN ON YOUR PHONE.
14.Then Flashing starts and take 1 min approximately to complete the flashing.
15.
After Flashing, Nokia Will turn on showing LOCAL MODE.You just remove the phone battery and put it on & Turn on the phone.
THIS IS ONE OF THE BEST AND SIMPLEST METHOD TO FLASH YOUR PHONE FIRMWARE AND CONVERT YOUR PHONE TO A C6 BASED FIRMWARE.