PC version details
As Far Cry 3's release is closing in on us, here's some extra info on the PC version.
As Far Cry 3 release is closing in on us, we wanted to seize this opportunity to update you on the PC version of the game.
We know that many of you will play the game on PC, and we wanted to highlight a few of the key features that we have brought to this version to ensure an optimal experience.
OPTIONS & SETTINGS
First off, we brought in a few enhancements to the game settings and options:
Keyboard key bindings are fully customizable

The reticle, aiming assistance, and enemies tagging can be disabled for increased realism.

Field of View (FOV) can be adjusted to fit your screen and preferences.
We integrated the Punkbuster anti-cheat solution to ensure a good online experience.
Then, we kept things light on the DRM side of things: a one-time activation is required when you first launch the game, then you're done.
We already detailed the hardware requirements of the game, which you can check here.
OTHER OPTIMIZATIONS
Here is a list of the other improvements / optimizations implemented in the PC version:
ADVANCED DIRECT3D 11 RENDERING
Far Cry 3 takes advantage of advanced Direct3D 11 features to implement an optimized deferred renderer including tile-based light-culling and fully supporting Multi-Sample Anti-Aliasing, for improved performance and visual quality.
DEFERRED AMBIENT GLOBAL ILLUMINATION SYSTEM
Far Cry 3 features an advanced real time global illumination system capable of computing indirect or reflected lighting, enabling more visually coherent and realistic world rendering. On the PC, this system supports global illumination from dynamic lights in addition to distant light sources such as the sun and the sky.
DIRECTCOMPUTE ACCELERATED HIGH DEFINITION AMBIENT OCCLUSION
Far Cry 3 implements a new and improved version of HDAO that uses full 3D camera space position data to detect valleys in the scene that should be shaded darker, and attenuates the lighting based on valley angle. In Far Cry 3 this technique has been significantly improved in both performance and quality relative to previous implementations.
TRANSPARENCY SUPER SAMPLING
Utilizing advanced Direct3D 11 Shader Model 5.0 features, Far Cry 3 performs specialized Super-Sample Anti-Aliasing of foliage, fences, and other alpha-tested objects, dramatically increasing visual quality, particularly where these objects overlap each other.
DIRECT3D 11 MULTITHREADED RENDERING
Far Cry 3 uses D3D11 multithreading features to simultaneously prepare rendering commands on multiple CPU cores. This helps utilize today's multi-core CPUs more efficiently and keeps the GPU more fully utilized.
ADVANCED PHYSICALLY-BASED SHADING MODEL
Far Cry 3 features a complete day-night cycle with physically accurate sky lighting based on the CIE Sky Model. Far Cry 3 also features an advanced micro-facet BRDF model, in conjunction with accurate Fresnel, Beckmann specular and Toksvig mapping, for realistic rendering of a variety of materials.
ADVANCED SKIN AND HAIR SHADING MODELS
The Far Cry 3 advanced physically based shading model is combined with approximated sub-surface scattering and rim lighting to render soft, natural-looking skin. Hair shading in Far Cry 3 also achieves its realism via a special anisotropic lighting model.
SHADER MODEL 5.0 CONTACT HARDENING SOFT SHADOWS
Contact Hardening Shadows, which enable the softness of shadows to vary across the scene by calculating the distance between blocking geometry and its associated shadow, were implemented in Far Cry 3. This effect has been tuned to match the artists' vision of the Far Cry 3 universe.
Far Cry 3 In-Game Editor details
Read our full-fledged update on the in-game map editor that will let you create, share, and download new content.
Today we are glad and excited to bring you a full-fledged update on one of the most anticipated features of Far Cry 3. We're going to cover the details of the in-game map editor that will let you create, share, and download new content.
If you are a Far Cry player, you may be familiar with the map editors associated with the series, especially the Far Cry 2 one. Well, we're happy to say that we improved on the concept in several areas.
Shaping your World
First: Landscape. The Far Cry 3 Map Editor introduces a brand new way to create your own world to play in. Not only will you be able to randomly generate a great variety of different terrains, but you'll also be able to really make the map your own using new functionalities such as caves and waterfalls. These elements bring new gameplay opportunities and will allow you to be even more creative in your map designs.
Then of course you can set the time (day or night, sunset, sunrise…) and weather (sunny, rainy…) of you creation.
Create with More
Creating a map is not just about terrain though. When you go deeper in your design you need to add object, lots of them. They will complement the atmosphere of your creation, and will allow you to craft these combat hotspots that turn a map into an epic experience.
We got you covered on this side as well, as we now have an even wider variety of objects available to fill in your map. You'll be able to choose from up to 2000 items from a variety of themes, such as: Tribal, World War 2, Mines, Chinese Tombs, and many more.
Of course we kept the "jump in – jump out" testing feature that allows you to test your map on the fly as you create it to adjust your props for that sniper corridor or place your building around your capture point to build the perfect arena.
Once you're done, publish your map for the community to play and rate it. Try, test, modify and improve it in order to reach the gold tier status and see your creation curated and appear alongside official Ubisoft content. This will ultimately be giving you, the players, an infinite source of content to play in.
Add a touch of Insanity
With the Far Cry 3 Map Editor we are also bringing in a brand new Single Player Sandbox mode, in which you'll be able to populate your creations with a great variety of gameplay elements such as Vehicles, Wildlife, and even some AI (animals, pirates, privateers, game characters…). Once these elements are in your map, jump in your creation and take on the insanity on your own.
MINIMUM SPECS

Processor: 2.66 GHz Intel® Core™2 Duo E6700 or 3.00 GHz AMD Athlon™ 64 X2 6000+ or better
RAM: 4 GB

Video Card: 512 MB DirectX 9.0-compliant card with Shader Model 4.0 or higher (see supported list)


RECOMMENDED SPECS

Processor: Intel Core i3-530 or AMD Phenom II X2 565 or better

RAM: 6 GB

Video Card: 1024 MB DirectX 11-compliant card with Shader Model 4.0 or higher (see supported list)


HI-PERFORMANCE SPECS

Processor: Intel Core i7-2600K or AMD FX-4150 or better
RAM: 8 GB

Video Card: 1024 MB DirectX 11-compliant card with Shader Model 4.0 or higher (see supported list)


SUPPORTED VIDEO CARDS

ATI Radeon HD 2900 / 3000 / 4000 / 5000 / 6000 / 7000 series
Nvidia GeForce GTX 8800 / GTX 9000 / GT 200 / GT 400 / GT 500 / GT 600 series
Image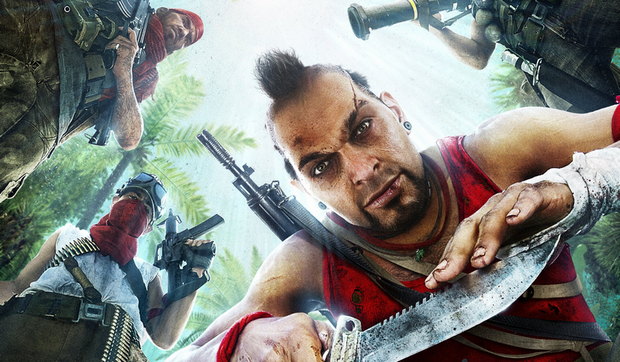 Direct lin
ks..
Password: www.deltafoxy.com
MP crack of FAR CRY 3 ..it's fully working...